The Joint Apprenticeship and Training Committee of the Northwest Line Construction Industry is a non-profit association designed to systematically train workers for the outside electrical construction industry including Line Construction Journeymen, Journeymen Tree Trimmers, and Pre-Apprentices.
Our Equal Opportunity Affirmative Action Training Programs are operated in a manner that does not discriminate based on any protected characteristics or conduct under federal, state or local law. The recruitment, selection, employment and training of apprentices during their apprenticeship shall be without discrimination because of race, sex (including pregnancy and gender identity), sexual orientation, color, religion, national origin, age, genetic information, disability or as otherwise specified by law.
This includes grading, assessment, and advancement; on-the-job opportunities and assignments; rates of pay; imposition of penalties or other disciplinary action and termination; or any other benefit, term, condition, or privilege associated with apprenticeship.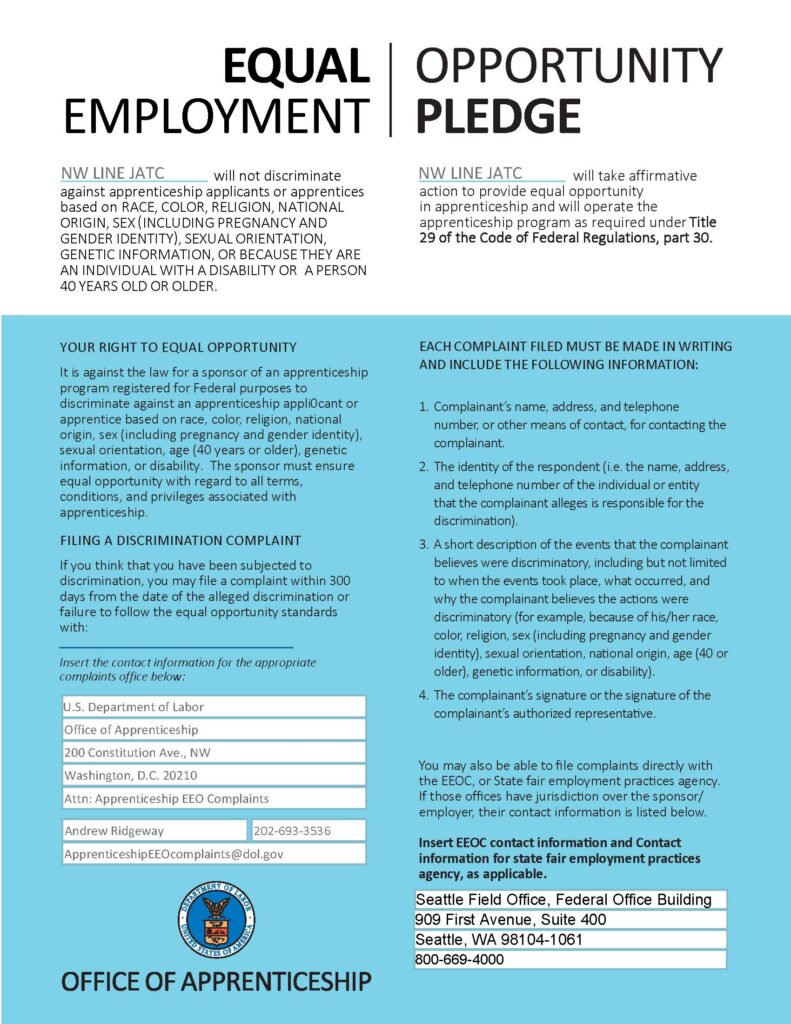 For a downloadable flyer please click on the provided link below:
https://www.apprenticeship.gov/eeo/apprentices-and-applicants/eeo-pledge-and-complaints-information-poster.
If you have concerns or wish to file a report, please scroll to the bottom of the page and click "Safe Reporting".  You will be redirected to Ethics Point NW Line JATC portal and provided step by step instructions on filing a report.