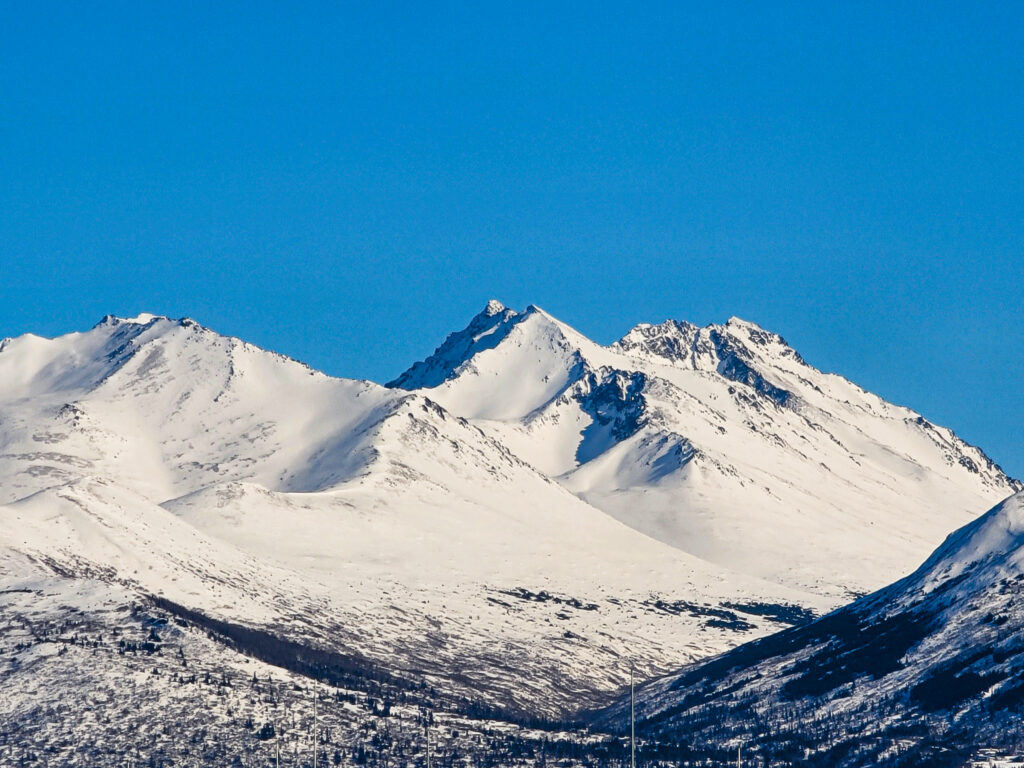 Scott Barnes, Assistant Director for the Tree Program here at NW Line JATC, likes to describe our apprenticeship as a school, you start as a freshman learning the ropes and come out as a senior prepped and ready to teach those just starting our program. Apprenticeship is not only a great way to learn and push yourself, but it also connects you to a new form of family. We enjoy watching all our apprentices grow as they progress step by step. I'm sure other apprenticeship programs feel a similar pride.
There are 9 different JATC's splitting up the nation, interestingly enough there are only two operating Tree Programs on the west coast ours (NW Line JATC), and Alaska (AJEATT).
Now onto what you're here to read about…the Alaska Trip. Deb Kelly the director of Alaska (AJEATT), reached out to us in the hopes of boosting their Powerline Clearance Program. They want to evolve and grow in a new direction. What better way to do that than learning from a similar program that has a lot of experience pushing the boundaries.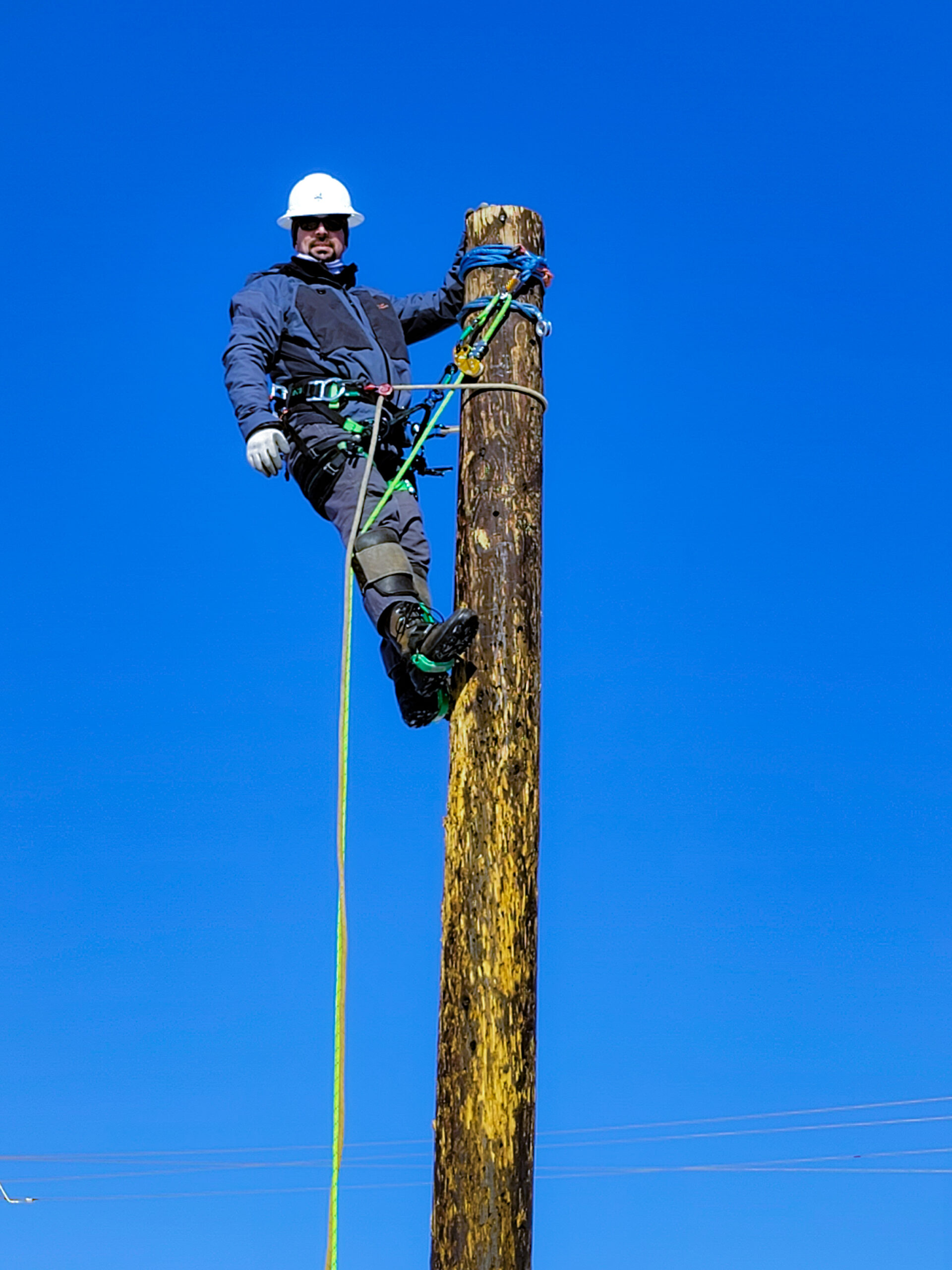 Scott Barnes (Assistant Director) and Keith Blakeslee (Training Coordinator) were called into action to take on this great opportunity. These two have done their time in the trade, both were NW Line apprentices who then worked as Journeymen Tree Trimmers for years, along with many years spent dedicated to the JATC. Being former apprentices they have truly come full circle and joined our team to help teach the new generations of Tree Trimmers. Their combined experience has helped them create and formulate training materials specific to the trade.
Scheduled to arrive in Alaska on April 5th, Scott and Keith prepared/packed plenty of gear for the training. Not only did they ship up multiple containers in advance for the expedited training, but they also brought additional gear when they boarded their flight. Preparation for the training was difficult solely due to the fact they had to condense all of our training into a 5-day intensive course for these Alaska apprentices.
Typically, our training spans 2 years for our program, broken down into classroom training and climb labs for both 1st and 2nd year students. We cover a variety of topics that have been expanding and improving over the past few years, Scott and Keith have created unique training specific to our program and are always working to improve and elevate our apprentices here in the pacific northwest. If you are one of our apprentices, you should know how targeted our training is since it is structured by us for you!
In Alaska, the tree trimmers are off during most of the winter months, then start back up in the summer taking on an intense workload to make up for the lost time. Training in the 10-degree weather was intense for both the instructors and apprentices. The current apprentices enrolled in the AJETT's program total around 12. Keith and Scott were able to train 10 of their apprentices while in Alaska. Keith stated, "It was nice being able to work with a small group and assist with all the little techniques." Our program has been experiencing tons of growth and is now just shy of 300 active tree apprentices. Working with such a small group in Alaska must have been a nice feeling. Scott told me after the trip that this group reminded them of our program when we were first starting. Now due to years of nurture, and the hunger for new apprentices and journey-level tree trimmers in the industry we have hit an all-time high of newly indentured apprentices this year! We know our fellow JATC will be growing to join us soon with their vigor to excel in the powerline clearance industry.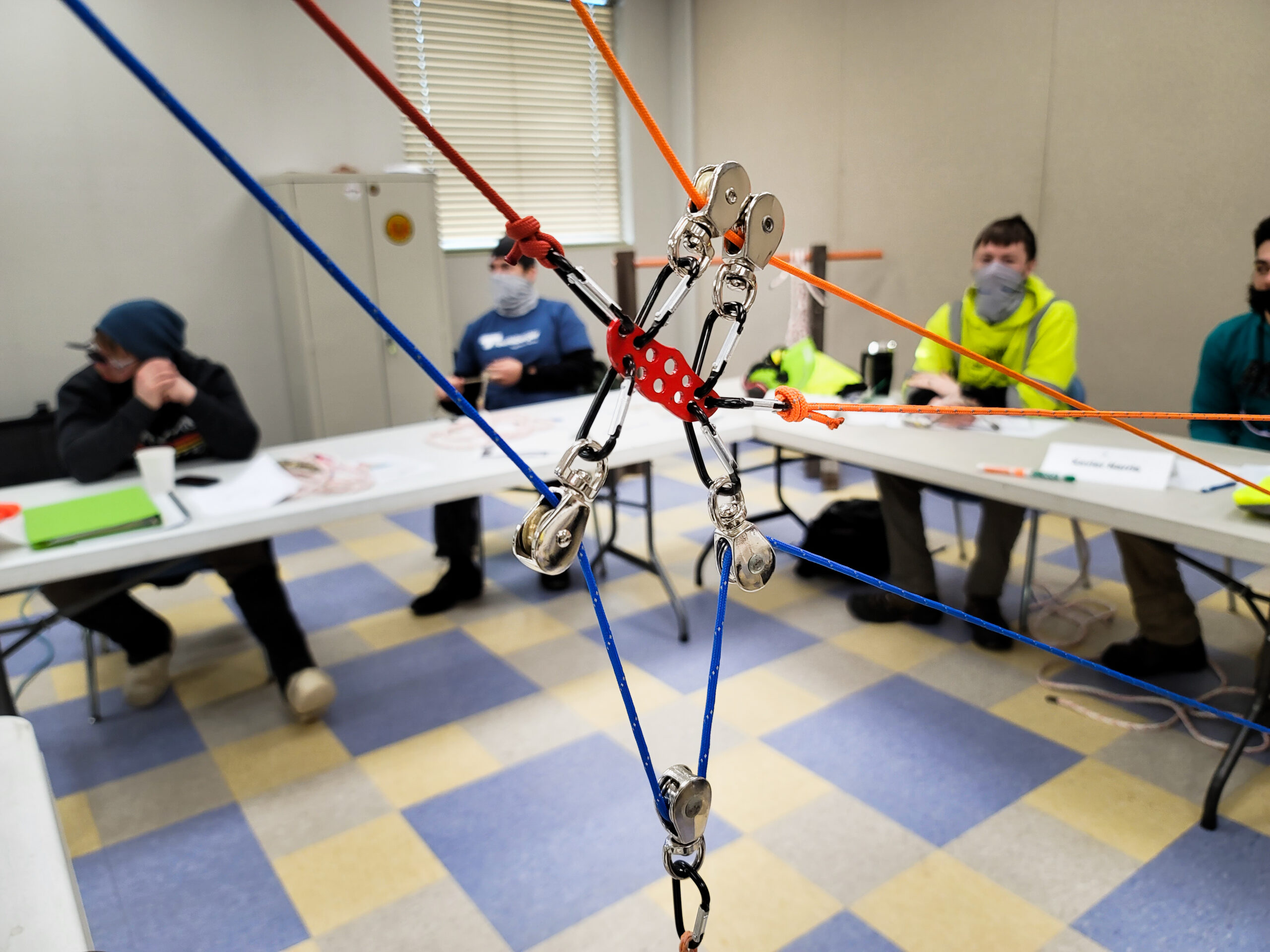 This 5-day intensive training combined climb and classroom learning. The main topics covered included: chainsaw, basic knots and rigging, electrical hazards, rescue operations, intermediate climbing, soft skills, safety, and leadership. For an apprentice to succeed in the industry they must have a strong baseline. We push topics such as safety, soft skills, and basic knots to ensure our apprentices are properly educated. Due to the condensed training with the Alaska apprentices, Scott and Keith made a push to focus primarily on the core skills necessary for a good tree trimmer.
To say these 10 apprentices showed up for class and outdoor training ready for action was an understatement. As you can see everyone was having a great time applying their new skills in the pole yard.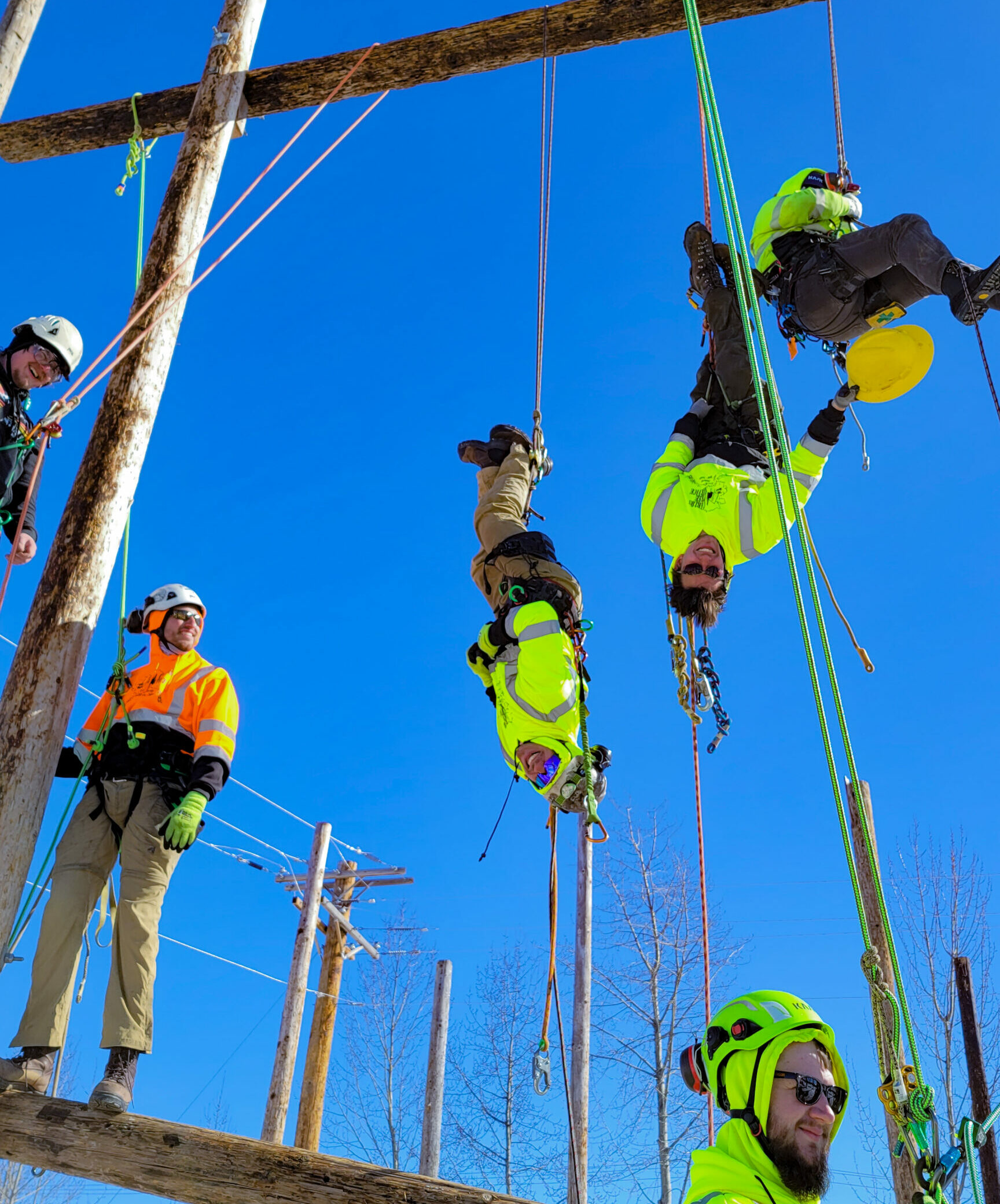 They even arrived "repping" matching shirts, written on the back was the phrase "I am a Tree Climber." When asked about the Alaska apprentices after the trip Scott stated, " The enthusiasm for new knowledge was tremendous and the engagement throughout the day was great!" These apprentices soaked up the training and had their eyes opened to a whole new level of professionalism and culture involved in this industry.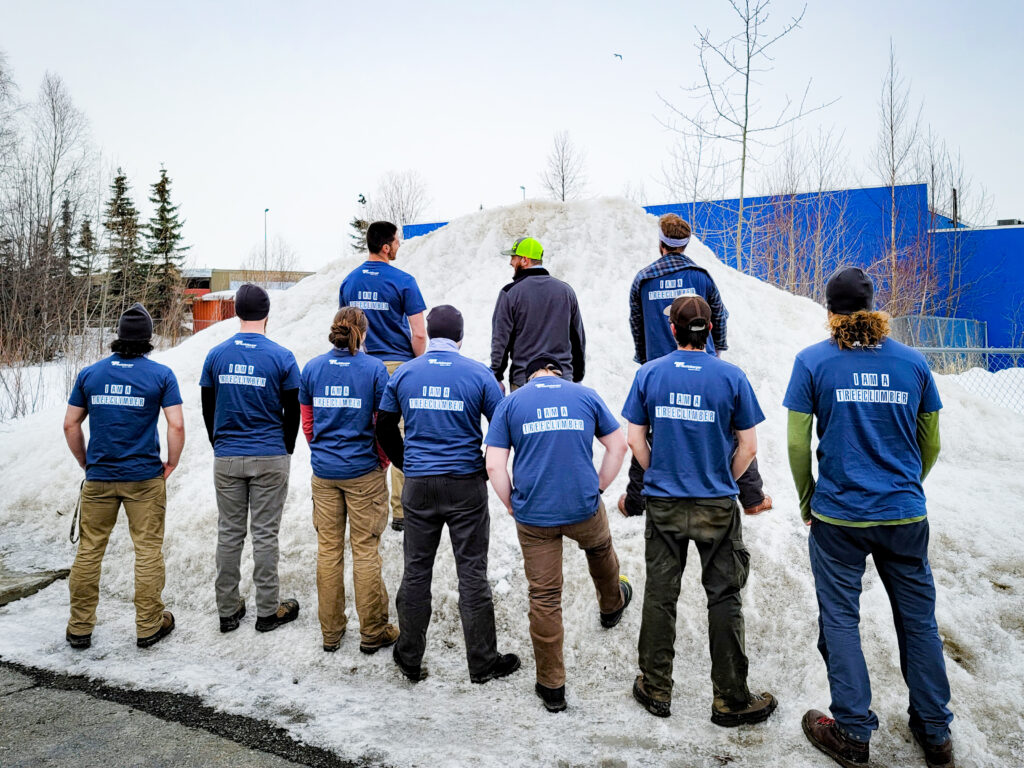 It was clear to see how excited both Scott and Keith were after working with all the apprentices and staff in Alaska. They were humbled and thankful for the opportunity to expand their teaching to others and can't wait to see how AJATC's Tree apprentices progress in the future!
The experience also reaffirmed how proud of our current apprentices we are! We can't wait to see where both our programs are in the next 5 years. It will be huge! Be proud to be a Tree Trimmer!